Why need a fleet tracking solution?
Any commercial enterprise that operates a group of Vehicle/Equipment's – trucks, cars, etc., has a need to manage Vehicle/Equipment's in an efficient and cost-effective manner for a variety of reasons.
Enterprises typically hire Fleet Managers to oversee these Vehicle/Equipment fleet operations.
(TATS) as an authorized sales & after sales distributor for Fleetilla Fleet Management Solutions in KSA provides solution for Fleet Managers to track fleet Vehicle/Equipment over the Internet using Global Positioning System (GPS) and wireless communications.
This technology is called "GPS Fleet Management"
Our system allows fleet managers to constantly monitor their fleet Vehicle/Equipment visually and receive details such as Vehicle/Equipment locations, status and performance, and also communicate with the drivers operating these Vehicle/Equipment creating optimal fleet efficiency.
The components of our solution are:
(a) Hardwired device (LTD2400-UM) installed in Vehicle/Equipment using the asset battery source as primary power (other accessories inc. free external GPS antennas & power harness)
(b) All inclusive yearly fees for pre-activated US based datasim card with coverage support for major mobile networks in KSA & GCC countries.
(c) 24x7x365 User-Friendly & FREE web based browser application – FleetFACTZ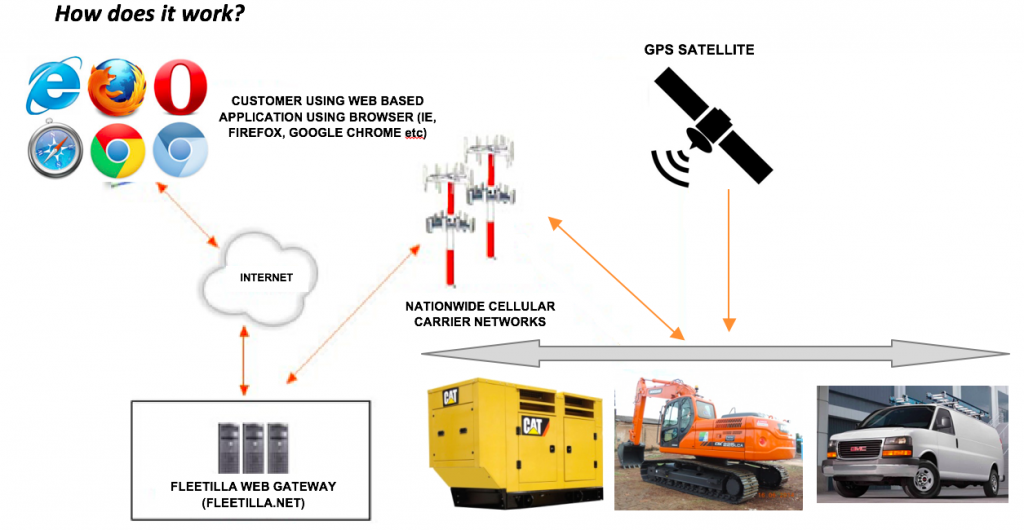 Model # LT615
(Supports 2G & 3G Technologies)
Key Benefits:

Stolen vehicle/equipment can be located, tracked & remotely immobilized (by using additional wiring)

Ideal for installations on vehicles, generators, trucks, trailers or any other off road heavy equipment, Primary Power Source:

Vehicle/Equipment Battery

Notify customers of vehicle's location while on service assignments & other business related tasks.

Always know the location & current status (start, stop, moving, parked etc) of your vehicle/equipment.

Get system generated reports emailed to end user on weekly/monthly basis.

Eliminate prolonged stop times (idle/parked) between service jobs.

Reduce vehicle/equipment breakdowns by staying on top of maintenance schedule (by using system generated email alerts & criteria as pre-defined by customer)

Create, manage, and enforce a speeding policy for vehicles using both frequency and severity of speed limit violations using FleetFACTZ reports.

Geo-fencing alerts via email, generated when a vehicle/equipment enters or exits a secure zone based on pre-defined user settings.

of other default system alerts via email are also available on FleetFACTZ (alerts module) to suite clients various requirements.

Get to your customers faster and respond quickly to customer emergencies by employing the most efficient route using driver's current location via FleetFACTZ

Live track, view and replay any journey made by your vehicle/equipment.

24x7x365 FREE access to our GPS Fleet Tracking Website (FleetFACTZ) at no additional cost.
Customer can privately create their own user ID/password via FleetFACTZ to monitor/track their assets (after completing initial profile setup)

FleetFACTZ software is supported by all major browsers i.e. Internet explorer, Mozilla Firefox, Google Chrome & Safari.

FREE access to Fleetilla mobile app (FleetFACTZ) which supports Android, iPhone, Blackberry & Windows based smartphones.

Fleetilla tracking devices are fully pre-configured & pre-activated for prompt installations.

Pre-activated US based datasim card (by AT&T) installed, with FREE roaming on KSA mobile networks and GCC countries at no additional monthly charges.

No hidden fees for web server/website maintenance or any other support related charges.

Software tracking supported by latest Google Maps locations.

After sales support provided by Fleetilla Authorized Fleet Management Solutions Provider in KSA (TATS)

Fleetilla LLC is a Michigan, USA based business entity providing GPS Fleet Management, Asset Tracking, Mobile Resource Management, Remote Monitoring & other telematics hardware, connectivity and cloud-based services to organizations worldwide.
Should you require any further clarifications regarding our Fleet Tracking Solution then please contact us
Note: As of January 2019, FL1260-UM has been discontinued & replaced by OEM model# LT612, pls contact us for more product details or email: [email protected]

Or Feel free to visit Fleetilla website below.
Fleetilla Website